Brittany Cartwright grew up on a farm in Kentucky, but she always knew she'd have a fairytale wedding. Some princesses meet their Prince Charmings at a ball—she met hers in Vegas. In a matter of weeks, Jax Taylor swept her off her feet and whisked her away to an enchanted land full of reality TV cameras, tequila-infused gummy bears, and goat-cheese balls. I'm speaking, of course, about the kingdom of Vanderpump Rules.
In case you're not aware of the actual best show on television, Pump Rules, as the cool kids call it, centers around a group of friends in L.A. who work at SUR, the restaurant owned by Bravo mogul and Real Housewife of Beverly Hills OG Lisa Vanderpump. Pretty much everyone on the series has slept with each other or done some incredibly terrible thing while drunk (except Lisa, who can do no wrong…at least on this show), but the beauty of it all is that they can't quit each other and actually exhibit some of the most loyal, unconditional examples of relationships in modern society (LOL).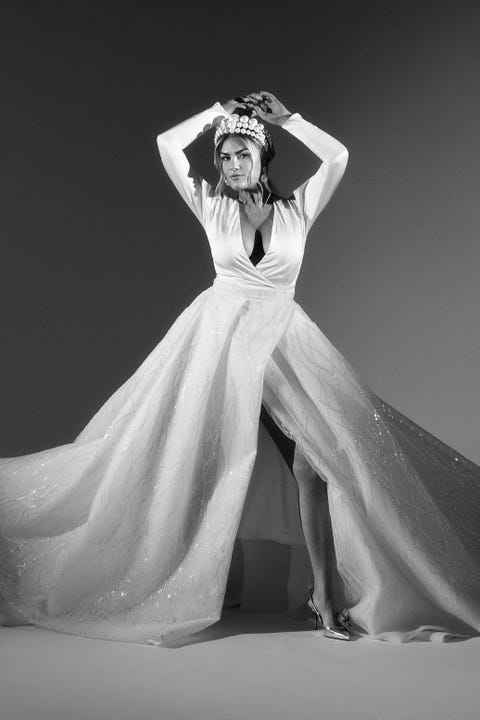 Ruben Chamorro
If you do watch the show, you probably know that Brittany, now 30, started appearing on screen in season 4 after meeting Jax, now 39, one fateful night in 2015 while the two were vacationing and partying in Vegas. (Brittany was visiting her now-maid-of-honor, Cara, who had just moved there; Jax was celebrating castmate Scheana Shay's birthday. Another cast member, Katie Maloney, intro'd the pair, and, well, you know the rest.) Brittany quickly dropped her life of bartending and beauty pageants in Kentucky for a new one in L.A., moving into Jax's apartment just weeks later. She thought she'd make maybe one or two casual cameos on the show, on which Jax happened to be a main character. "I didn't expect to be filmed as much as I was," she tells me after a four-hour photo shoot with an early call time. "I had no idea I'd end up as what I am now—a series regular."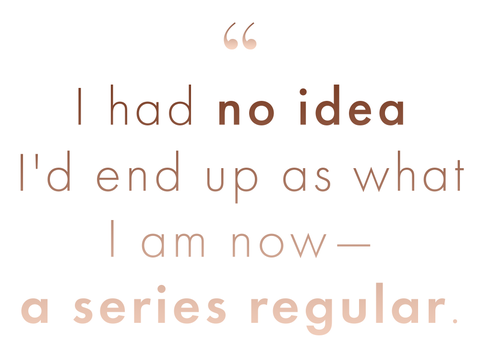 .
The two have had major ups and downs—including that time in season 6 when Jax messed around with a coworker and friend of Brittany's in the bedroom next to a sleeping elderly person (whom said coworker was supposed to be assisting—you can't make this stuff up, folks). But they say their bond—like many of the other Pump Rules' casts' relationships post-scandal—is stronger than ever. The proof? The gigantic princess-cut diamond in a halo setting sitting on Brittany's ring finger after an intimate (but televised, so not like, intimate-intimate) proposal at a Malibu restaurant in June 2018.
Some fans think bubbly Brittany—who, BTW, is just as sweet IRL as she seems on the show—deserves a better partner than Jax (who also acts exactly the same as he's portrayed by producers, down to that thing he does with his eyes, where they get really wide but also really squinty at the same time without blinking). They don't listen to that noise, though, because after four years together, the two are busy getting ready to tie the knot in two months—the wedding, Brittany recently announced on the 'gram, is June 29.
So, let's talk wedding dresses, eh?
Brittany won't reveal the dress she's going to wear because obviously she wants to keep it a secret until the big day. (She will, however, disclose that the designer is Netta BenShabu and that the gown will be customized.) The two aren't even going to take the traditional "first look" photos ahead of the ceremony, according to Brittany. "The first time he sees me, I'll be walking down the aisle," she says. When I ask Jax (because, yes, he was on set, too) if he's ready for the waterworks that'll surely ensue, he says simply, "There's going to be a lot of emotions at this wedding." But I fans of the show need some sort of wedding-dress fix ahead of their nuptials, so a bridal photo shoot had to happen.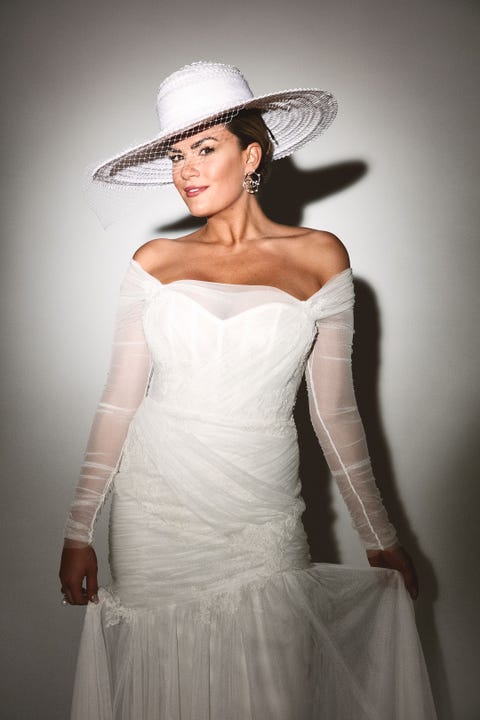 Ruben Chamorro
"Oh my god, I feel like a princess—no. I feel like Carrie Bradshaw!!" Brittany says as she enters the studio in early April and sees the racks of white dresses—she's up early, after a late night filming Watch What Happens: Live! with Andy Cohen.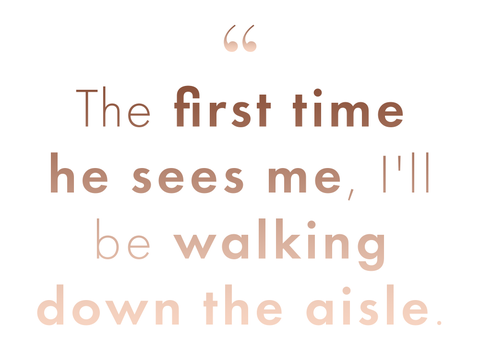 .
Remember Carrie's wedding photo shoot scene in Sex and the City: The Movie? The shoot is basically just like that, only with "Hell on Heels" by Miranda Lambert playing on loop in the background. We try on tons of gowns, ranging from Southern belle to avant-garde. Brittany loves everything equally. "This is real fashion—editorial, not just regular dresses," she tells Jax as he arrives on set just in time to eat the crispy-chicken wrap she ordered him for lunch. She's talking about a dark, see-through gown with a massive bow that she's wearing. "You are Carrie Bradshaw," Jax tells her. "OMG, I have been saying that all day!" she gushes.
Also on display: feathers, bows, and wide-brimmed hats—because statement-making accessories and voluminous skirts are really the only drama that's necessary on a wedding day.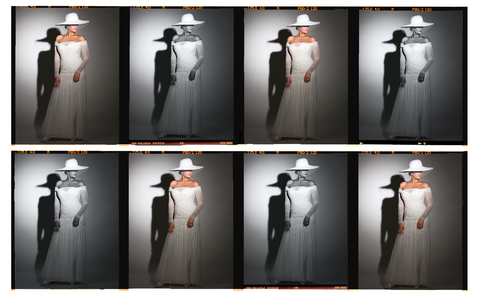 Ruben Chamorro
About that drama, though.
The whole cheating thing—and the pair's subsequent breakup—happened at a low point in Jax's life in 2016-2017 (you can catch it all on season 6 of the show). Things were looking up for the couple in March 2017 as they filmed the reunion episodes and revealed they were back together. But then another rough patch hit in December 2017, when Jax's father passed away. Jax credits Brittany being by his side as his ticket out of a destructive, alcohol-drenched lifestyle.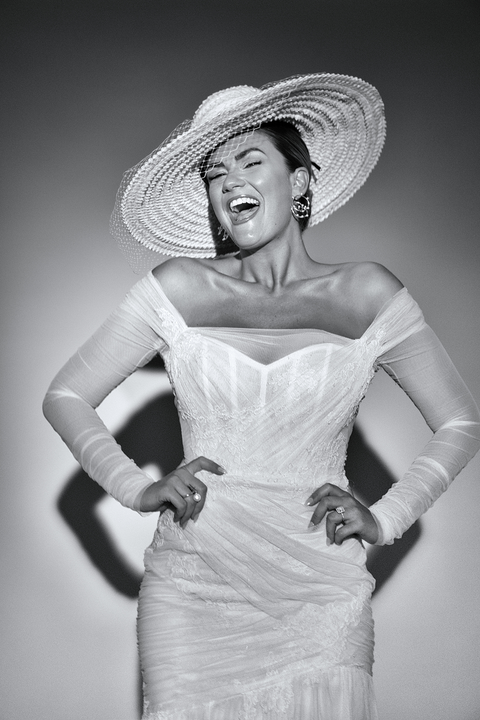 Ruben Chamorro
"I'm not proud of the man I was," Jax says. "I was in a dark place. She turned things around." They share meaningful glances with each other while talking about this period, and the energy in the room is optimistic—positive about their future.
But being a couple again doesn't erase some of the hurt they experienced. For one, post-cheating, they've both been inundated with hateful messages on social media, and people constantly ask Brittany why the hell she's putting up with Jax again. "I love him so much—I don't know how to stop loving him," she says. "Forgiving is just how I was raised to be."
Brittany leaned heavily on Jax and her family for strength and doubled-down on that sweet, forgiving nature while dealing with those embarrassing moments in the public eye. The thing she wishes people would understand more than anything? "This is my actual life—like, it's not a fake thing!" Fans often mistake personalities on reality TV for characters in a scripted drama, and, at least in the case of Vanderpump Rules, that's not true. Jax even says producers get a bit fed up with the cast for hanging out so much when they're not filming, because they're worried they'll miss out on key plot points. (Honestly, same.)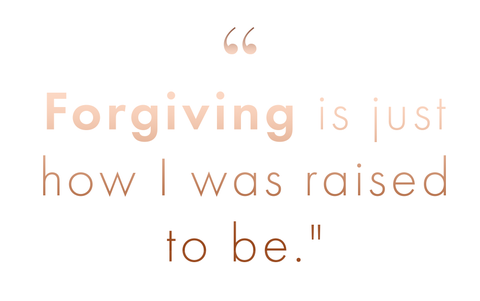 .
The worst part, though, she says, is watching it play back months later. Jax agrees. "Oh my God, we'd get to a really good place, and then she'd have to relive it and we'd be back in that moment," he says. By the way, they do watch the show together, except when the episodes are too painful.
"All those emotions I would think I was over would come right back," she says. To get through this kind of stuff, the pair has sought couple's counseling and Jax also goes to therapy to work on himself. It's been a rollercoaster for sure, but "we're so happy and excited," Brittany says. Which brings us back to…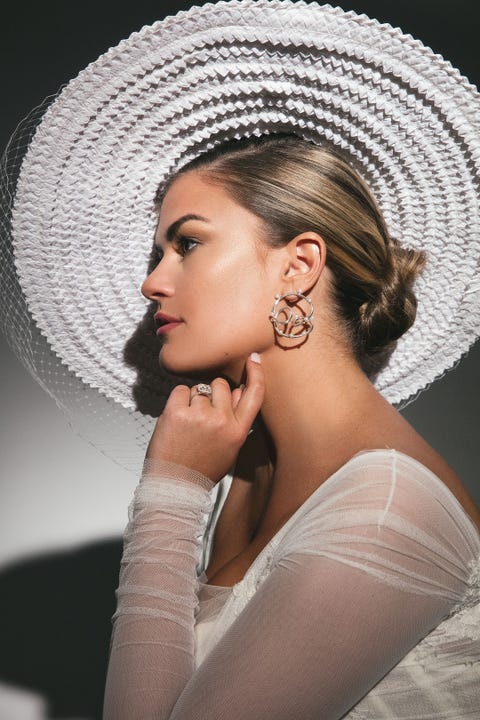 Ruben Chamorro
All those wedding details!!
Lots of little girls have princess-y wedding dreams and outgrow them. Brittany has wanted a wedding at a castle since she was a child—and she's going all in on it. She's getting married at a place called the Kentucky Castle—a sprawling hotel property that looks positively medieval, down to its turrets. It's even in the town of Versailles, Kentucky (which, yes, was named for its French counterpart, though locals there pronounce the Ls—"Ver-sails," Brittany says).
Let's talk decorations: For the ceremony, think classic white elegance, especially in the flowers and other details. Afterward, at the reception, things'll get a bit more fun and colorful, so stay tuned.
The only difference between the wedding of young-Brittany's dreams and the one she's getting is the time of year. "I always imagined getting married in the winter, but ours is in the summer, in June," she says. (And although the couple won't say whether or not the wedding will be televised, the show films in the summer, so…)

Brittany and Jax are also going to have 12. attendants. each, Brittany tells me exclusively. "It is such a big wedding party," she says, while laughing her infectious, rumbling laugh. "We're gonna have 24 people up there with us!" The two jokingly wondered if everyone will actually fit up at the altar. By the way, Brittany's bridesmaids are wearing WToo by Watters dresses, and her best friend from college, Zack Wickham, will be a bridesman on the big day.
(Everyone from the wedding party will celebrate Brittany and Jax in Miami soon with an epic joint bachelor/bachelorette party, Brittany and Jax revealed exclusively to me.)
One thing that'll be absent from the wedding? "Drama—I don't want any drama," she says. "We'll see!" Jax chimes in, to which Brittany interjects: "Jax! I just want everybody to have fun." I can't stress enough how excited I'll be if this gets filmed—let's all have a beer-cheese party!

---
Photographer: Ruben Chamorro; Fashion Editor: Rachel Torgerson; Creative Director: Abby Silverman; Senior Visuals Editor: Raydene Hansen; Stylist: Ann Wang; Hairstylist: Bradley Leake; Makeup Artist: Jared Lipscomb
Fashion Credits: Hat look: Dress, Amsale; Hat, Eugenia Kim; Earrings and ring: Diana Le Compte; Shoes: Malone Soulier. Pearl crown look: Dress (as top): Tommy x Zendaya; Skirt: Galia Lahav; Headbands: Keren Wolf; Earrings: Lele Sadoughi; Ring: Ming Yu Wang; Shoes: Christian Louboutin. Dark look: Dress: Greta Constantine; Earrings and gem rings: Les Nédréides Paris USA; Pave ring stack: Sydney Evan.